SkypeX Beta* | Delete your Skype messages
Role: Concept, design, development
Have you ever:
Typed something you wished you hadn't?
Complained about your boss via Skype™ on your work computer?
Spoken about another job opportunity?
Said something really harsh?
Made a flirty comment to a friend your spouse already doesn't trust?
OK, so after hours of experimenting and coding, I found a way you can finally delete parts of Skype™ conversations.
Just choose a message from Skype™ and delete!
Regular price $19.99, beta price $4.99
I'm hoping future releases will include:
- Backup of Skype™ conversations
- A Skype™ conversation export tool
Questions? Problems? Comments?
Skyppex@gmail.com
Only $4.99 Purchase and download in 2 minutes!
Works on:
Windows 7 |
Windows Vista |
Windows XP
Simple to use:
Enter your Skype™ Username
Choose a Skype™ conversation
Select messages you wish to delete by clicking the gray area on the left.
Drag up or down to select multiple messages
Click delete
SkypeX will delete individual messages from your conversation history and only on the computer that SkypeX is running from - if you login to your account from another computer, the message may still appear.
SkypeX
can't
be used to delete a message before someone else receives it.
Requires Microsoft .NET Framework version 3.5 or greater. If you receive an error during application launch, you may need to install or upgrade your version of .NET.
You can download the latest .NET Framework version here:
http://msdn.microsoft.com/en-us/netframework/aa569263
* Although tested, this product is in beta. I do not assume any responsibility for problems this software may cause you or your computer. Install at your own risk.
SkypeX Beta* is not in any way affiliated with or endorsed by Skype™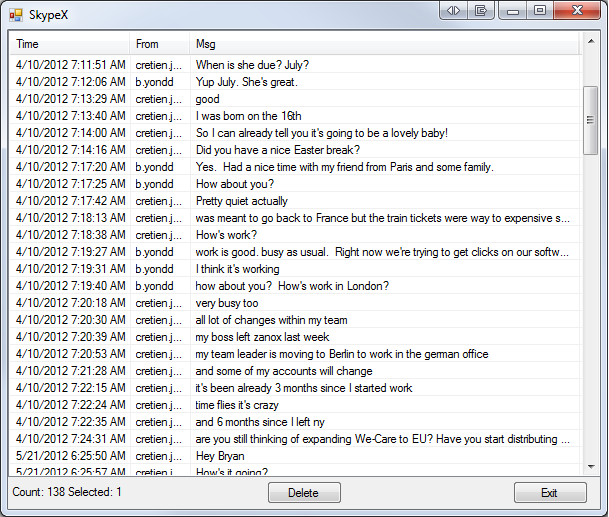 New features in version 2.1:
Click anywhere in the message row to select the message
You can use the CTRL key combined with arrow keys and spacebar to select and unselect messages quickly
The message list resizes when you resize the window.
Message count and selected count are displayed on bottom right
Some bug fixes
Added date and timestamp to each message