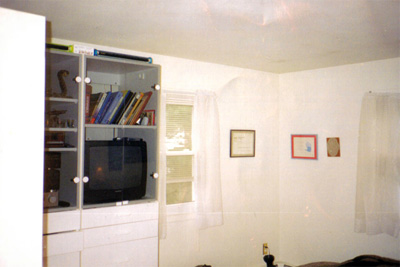 Renovation
Role: Development
22 years old, with a deep desire for a bedroom that represented me, I decided to vault my ceiling.
The confines of 8' ceilings were getting to me, and it was the first time in 10 years we lived in a home that we owned -- and therefore could do anything with.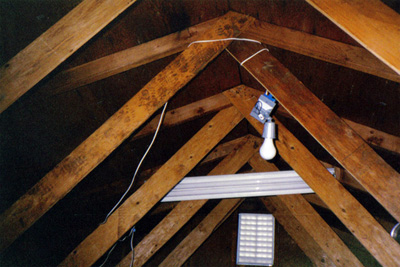 Not really sure that what I was doing would work, I started my project in the attic. The roof was a truss construction, which is really not supposed to be tampered with. Each truss is its own support system, and opening that system up meant weakening the roof. The first thing I did was remove all the cross-straps, and redouble all the 2x4 beams. Working by myself, sometimes in 114 degrees, in such a small space, getting 15' beams to go where I wanted was a chore. I worked out a system of braces to hold the wood in place on one end, while I crawled to the other end to finish securing. Carefully walking on joists so as not to fall through the ceiling in those conditions was a lot of fun.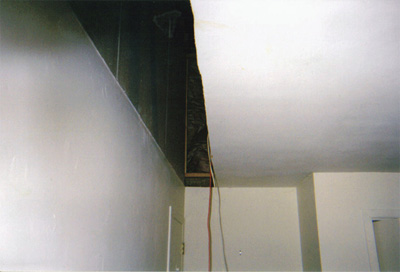 In the attic, I framed the two walls that would make the side and back boundries of my new space. Once all the beams and rafters were in place, the recessed lights were in, and the space was cleaned, I was able to start stripping the sheetrock from the ceiling. I started on one side so that I could wallboard up to the roof along my newly framed walls. I used thin fiberglass insulation all the way around to protect from the cool and heat of the vented attic.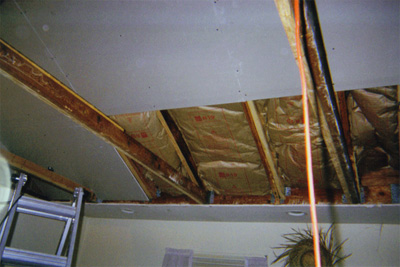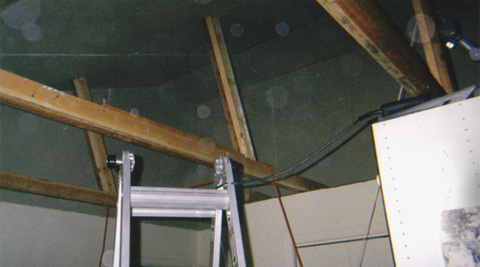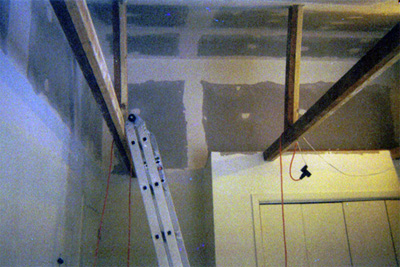 Next I tore down the rest of the ceiling, and started sheetrocking the rafters. Above-left, you can see the insulation, and the recessed lights I put in at the end of the room. I spent a few weeks balancing on ladders and beams sheetrocking, taping, and compounding the new ceiling. After the ceiling was done, I made boxes out of birch plywood to finish off the beams. Then I painted the room.